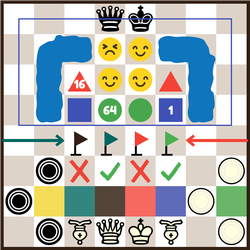 The LogiQ Board is a much needed smart demonstration board that is developed according to the trends of modern chess education.
It can not only be used to play chess, but students can also enjoy the built-in playful logical elements.
With LogiQ Board you can create a virtually infinite number of chess and logic exercises for children. The built-in smart elements that connect on the board,  the possibilities to add numbers, arrows, lines, fairy and checker (draughts) pieces bring the teaching and learning experience to a new level.