(Vil du bli god i en fart? – Norsk versjon >>)
The LearningChess Norwegian version launched just six months ago, but we have already received a lot of positive feedback from coaches and home users who bought access to the courses and the Learning Management. However, the biggest surprise was a review in the latest issue of the Norwegian Chess Magazine (Norsk Sjakkblad).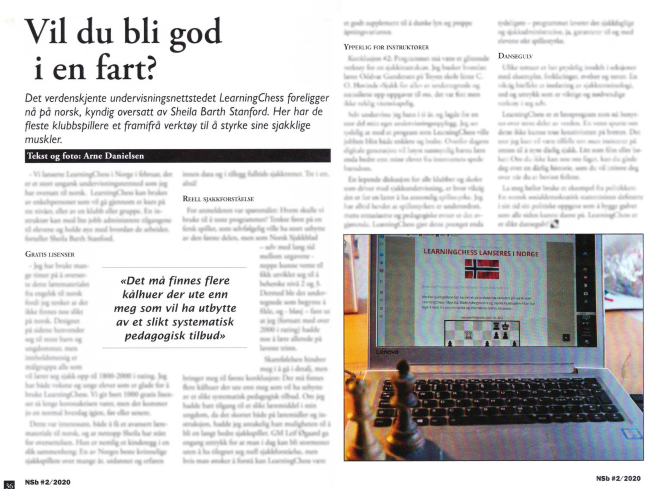 The author, Mr. Arne Danielsen, already captured the essence of LearningChess in the "Do you want to be a good player quickly?" title. That is: "Improve your chess effectively with high-quality chess lessons based on our interactive teaching method."
For those of our readers who do not have the opportunity to read the article (in the original Norwegian), we summarize it below. This can also help coaches and chess fans who did not have access yet but want to understand how LearningChess can support them.
The author says that even strong players can get a lot out of the lectures. He is rated above 2000 and learned something even at the first level. He strongly believes that if he had had a tool like LearningChess when he was young, he would have become a far stronger chess player.
When the author was teaching groups of children chess, he had to prepare his own material. He would have liked to have LearningChess accessible as it's excellent for chess instructors to use with a student or a group of students.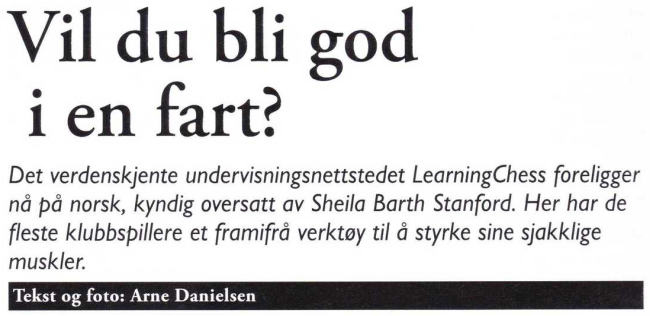 With experience from chess clubs where they discuss how strong you have to be to teach the kids there chess, the author thinks that LearningChess makes it possible for a not so experienced chess player to teach quite advanced chess.
The author believes that the translations by Sheila Barth Stanford is skillfully done. As a side effect of following the lectures, you learn the terms and expressions that a chess player uses.
Thank Mr. Danielsen and Norwegian Chess Magazine for the efforts in reviewing LearningChess!
VIL DU BLI GOD I EN FART?
(NORSK VERSJON)
LearningChess ble lansert på norsk for kun et halvt år siden, og vi har allerede fått mange positive tilbakemeldinger fra trenere og andre som har kjøpt tilgang til kursene og læringsplattformen. Den største anbefalingen hittil har vært anmeldelsen i det siste nummeret av Norsk Sjakkblad.
Forfatter Arne Danielsen sitter i NSBs redaksjon, og har testet plattformen denne våren. Han fanget essensen i LearningChess allerede i tittelen "Vil du bli god i en fart?". Vi sier selv at du med oss kan "forbedre sjakken din effektivt med kvalitetsleksjoner basert på vår interaktive læringsmetode."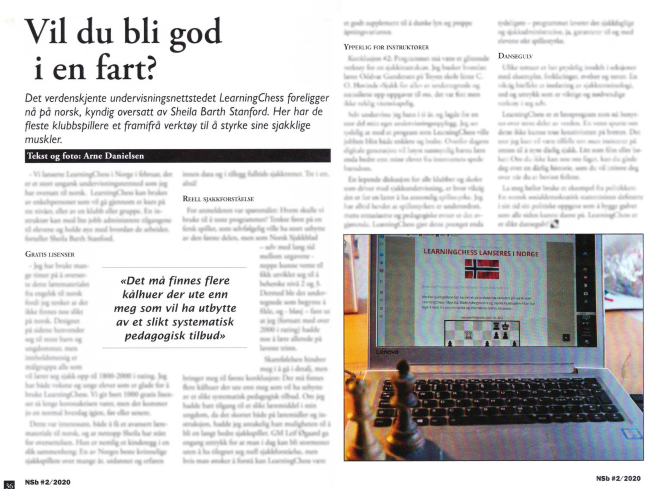 Her følger en oppsummering av anmeldelsen som kan være nyttig for trenere og sjakkinteresserte som lurer på hvordan de kan ha nytte av LearningChess.
Danielsen skriver at også sterke spillere kan få mye ut av leksjonene. Med en rating på over 2000, så lærte han noe selv på laveste nivå. Han tror at han hadde blitt en mye sterkere spiller nå, om han hadde hatt et verktøy som LearningChess da han var ung.
Når han har undervist grupper av barn, så har Danielsen måttet lage sitt eget materiale. Med LearningChess sine verktøy hadde det vært både enklere og bedre.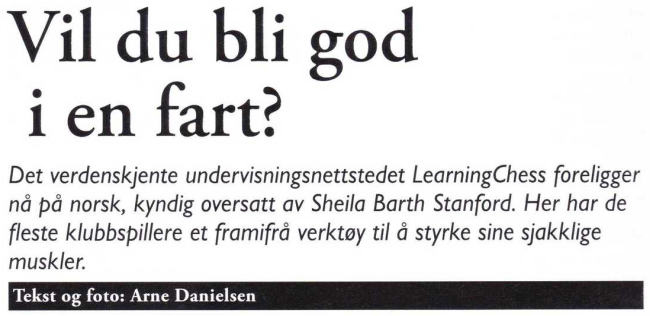 Danielsen vet at klubber og skoler diskuterer hvor sterk du må være for å lære bort sjakk, og tenker at med LearningChess så er det mulig for en mindre erfaren sjakkspiller å lære bort ganske avansert sjakk.
Danielsen synes at materialet er kyndig oversatt av Sheila Barth Stanford. En tilleggseffekt av å gå gjennom leksjonene er at du lærer uttrykk og termer som en sjakkspiller bruker i hverdagen.
Vi takker Arne Danielsen og Norsk sjakkblad for at de brukte tid og plass på å teste ut og anmelde LearningChess.