My first opening repertoire
The new course is coming soon
Based on our users' request, we started developing a new opening course for beginners, called "My first opening repertoire". We still recommend that first, you learn the logic behind chess and the basic moves from our Beginner course, before mastering any openings. Moreover, a solid middlegame and endgame knowledge are also essential, which you can learn from the Intermediate and Advanced courses.
However, if you want to become a successful player in today's computerized chess world, you also need to put emphasis on your opening strategy. That is why we are launching "My first opening repertoire" in August 2020.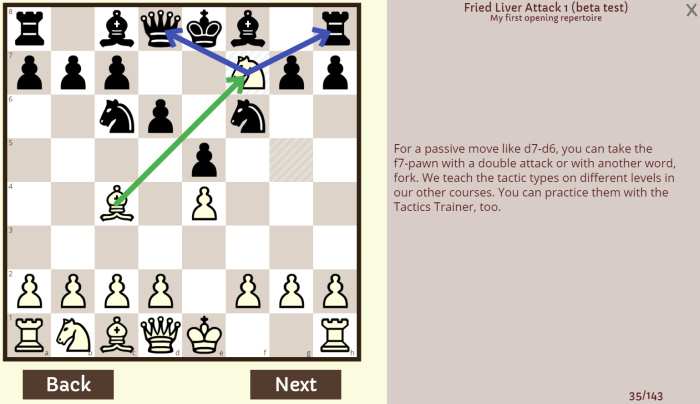 Please, check our sample lesson below, and tell us what you think about our method.
More understanding and less memorization
The keyword in all LearninChess courses is "interactivity for better understanding", and that is what we focus on in the Opening Course as well. You have to answer different types of questions during the learning process, which helps you to understand the lessons much better. In our opinion, this interactive method is more effective and more fun than the dull "brute force" memorization by repetitions process. Of course, high-quality videos and books are also enjoyable. Still, as you are not actively taking part in the learning process, over-time, they become less effective.

The course will contain 36 lessons. GM Jozsef Pinter – our head coach – selected mostly tactical lines to the repertoire as we firmly believe these are the most suitable ones for beginners and children.
Structure
Each lesson has three parts:
First part: We introduce the main and sidelines of the opening with explanations and memory training. The student takes part in the learning process actively and is not only repeating the showed moves.
Second part: The user can take a look at a short game with typical lines from the given opening. It's a kind of move-by-move task with many explanations and hints. During the game, we disclose opening traps and introduce the typical plans and goals at the transition to the middlegame.
Third part: This is a test, where the user has to play his/her repertoire moves in the main line without any help. There is also a surprise exercise at the end.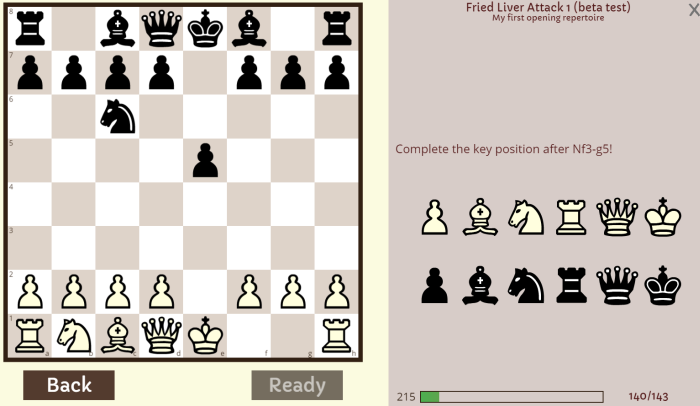 Share your thoughts with us
Many users requested the LearningChess opening course. We are interested in your feedback, as we would also like to select from your suggestions in the next phase of the course development.
Please, try one of the first lessons here, and let us know what you think.
Thank you
LearningChess Team