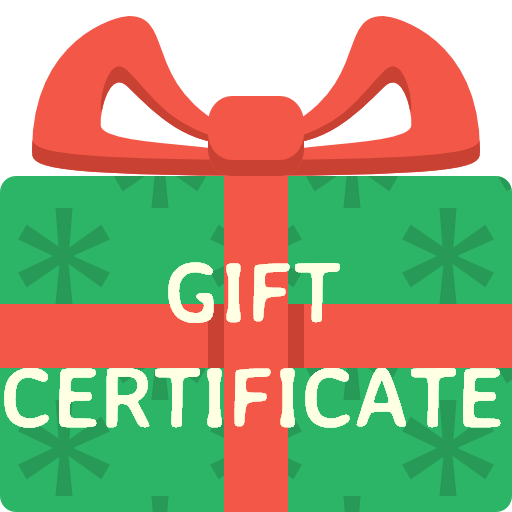 There are several occasions when we give gifts to our loved ones: Christmas, birthday, anniversaries, and more. Of course, we would like to buy an impressive, useful gift.
The LearningChess online chess tutor is an ideal gift. Let's check why.
LearningChess is appropriate for all ages, because:
it's a playful development tool for kids,
it's a proper brain training for adults, and
it helps the elderly to preserve mental health.
You can give LearningChess gift certificate for all occasion because you can freely specify the short text we write on the certificate.
So, the opportunity is here now; you can buy LearningChess gift subscription in a few easy steps below, online.
Christmas gift certificate, sample: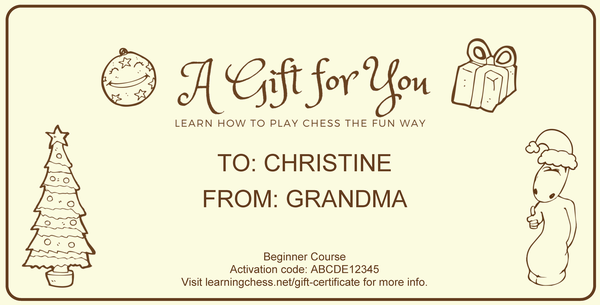 One year gift subscription for one chess course is $14.99.  One course contains 36 interactive, online lessons, 45 minutes each. Special promotion: three courses bundle in gift subscription for one year costs only $39.99. The online lessons can be used on notebook, desktop computers (PC/Mac), tablets, and mobile devices.
Here is some info to understand the course levels before purchase:
If the beneficiary is a complete beginner, it's recommended to start with the Level 1 – Beginner Chess Course.
If the beneficiary qualifies as a good chess player at the amateur level, then it's recommended to start with the Level 2 – Intermediate Chess Course
If hardly anyone can beat the beneficiary among his/her friends, it is recommended to start with the Level 3 – Advanced Chess Course, which will prove a hard nut to crack.
How to purchase LearningChess gift certificate?
Step 1 – Select the payment option below. The payment will be processed with PayPal.
Click here to purchase one course for one year for $14.99.
Click here to purchase four courses on a special promotion for two years for $39.99, and save 66%.
Step 2 – Please contact us, and let us know which lesson language do you need. If you purchased one course, let us know which course you would like to present (Beginner, Intermediate, Advanced, or Opening).
Step 3 – Also, let us know the email address of the beneficiary and a password for the login. (They will not need the activation code anymore.)
Step 4 – Please inform us which certificate we should prepare: Christmas, birthday, anniversary, other. Specify what we should write to the 'TO' and 'FROM' fields of the certificate (we recommend nicknames here, please check the samples) and the short text (e.g. Happy 30th Anniversary, Happy name day).
Step 5 – We set up the beneficiary account and send back the gift certificate within 24 hours to your email address. You can print it out or forward it to the beneficiary with the login data. You have a 100% money-back guarantee based on the LearningChess Terms of Use.
Okay, let's see some other examples:
Birthday gift certificate, sample: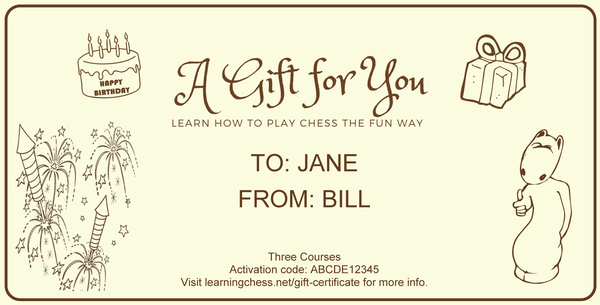 Anniversary gift certificate, sample: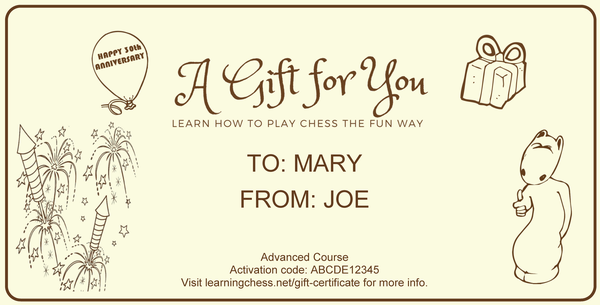 If you have any other question in connection with the LearningChess gift certificate, please do not hesitate to contact us.