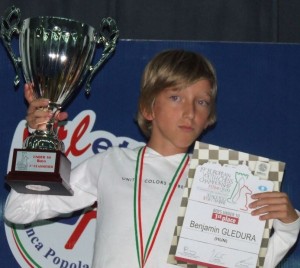 We introduce Benjamin Gledura (16), from Eger, Hungary in our chess talents series. Benji is a real sportsman who was a ranking leader national swimming champion, winner of the Hungarian youth chess championship five times, European youth champion three times, silver medal winner in the world youth championship and chess Olympiad. The American Bloomberg Magazine voted him in among the 50 most talented children in the world.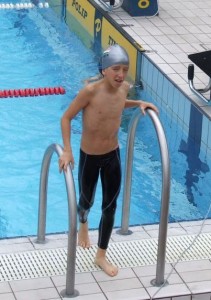 Benji was born into a sports loving family, where his talent unfolded soon. At the age of 4 he skied, rode a bicycle, played football and swam perfectly. When he was 5 he took to playing chess at a chess club where you can play football, too. Swimming went also very well; he went to chess training with wet hair, from where he went muddy after playing football.
Benji went to a chess competition at one weekend and to a swimming competition at the other. Intensive training soon yielded their result: he became national age group champion in swimming and chess, alike. It was then that the American Bloomberg Magazine voted him in among the 50 most talented children in the world.
But, as always in life, the time to make a decision comes: Benji opts for chess after the silver medal in the world youth championship in Brazil, 2011.
Before you go on reading, let's take a look at Benji's wonderful winning against his grandmaster opponent in Hastings Master 2014/15. You can find this lesson in our Grandmaster Lesson series, too.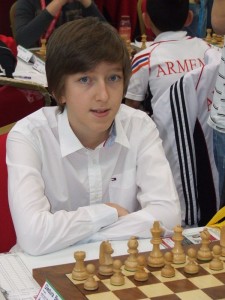 Swimming remained his daily hobby and in the meantime Benji also had outstanding results in the school, he received the 'Good Sportsman,  Good Student' prize from his home county. Benji had several sponsors, mainly from his hometown, but the Hungarian Chess Federation and MOL also provided significant support. He had better and better coaches: Tamás Bódi, IM András Mészáros, GM József Horváth and the fight started for the ELO points and the IM norm.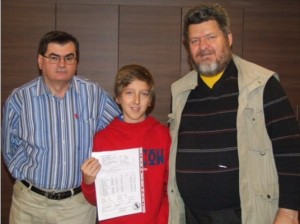 Hardworking years came, he kept going to one tournament after the other all over the world: Italy, Greece, Norway, China, Dubai and many others… Finally, after several attempts, Benji achieved the international master title in May 2014. His coaches were IM Miklós Galyas and GM Zoltán Ribli that time.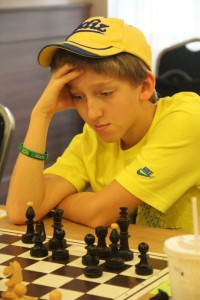 Afterwards he prepared with GM József Pintér and their common work yielded the first GM norm in 10 months, in March 2015. Benji is constantly in play: he plays on the first board of the team called 'Titans' in the Hungarian First League, he travels all around the world with the junior national team and now they are going to travel to Mongolia for the U16 Chess Olympiad.
He is often invited to play abroad, now he is going to participate at a round robin tournament in Cuba, then he will be captain of the junior team of Benidorm in Barcelona at the Spanish national championship.
There's a lot behind the results and trips: joy and pain, laughter and fatigue, friendly and envious persons, but Benji's goal remains the same, he wants to become a chess player, and a good one.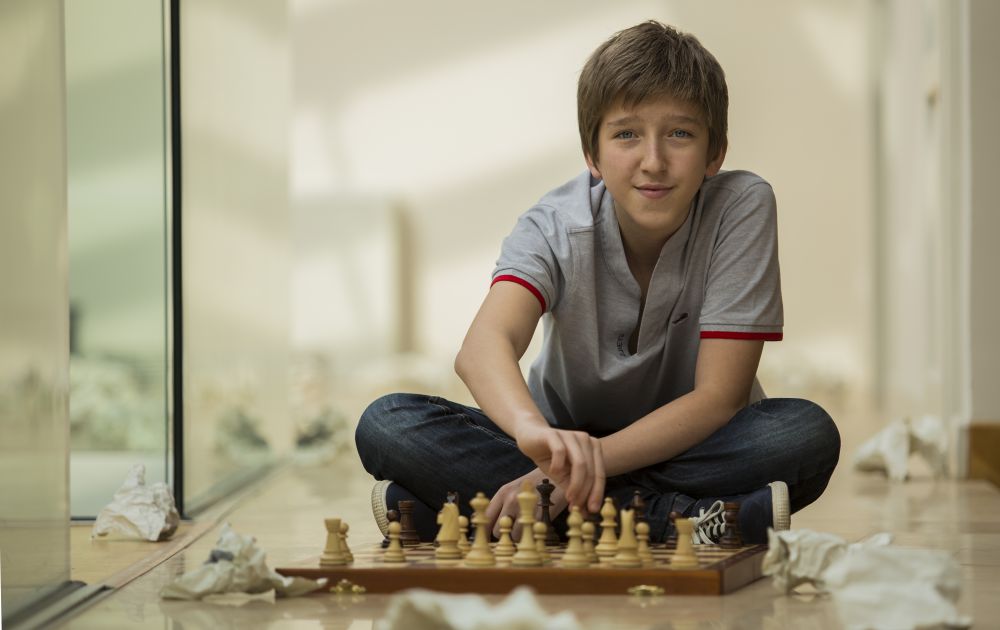 The article and the pictures were published with the permission of Benji's parents.