We would like to introduce a remarkable book about a new and unusual area where chess can be also used as a development tool. The author is Carl Portman, the English Chess Federation's Manager of Chess in Prisons. In 2015 he was awarded the ECF President's award for services to chess.
Yes, this area is the chess in prisons. Is it surprising? Not after reading the book!
Chess Behind Bars offers a guide to chess in prisons that will instruct and entertain regardless of your situation. It covers almost every aspect of chess imaginable – from the rules to chess history, from puzzles to famous games, and even some tips for improvement and how to motivate yourself. Especially powerful is the testimony from prisoners. It is a smorgasbord of chess, seen from an unusual angle.
"To me, Chess Behind Bars is saying every time a prisoner pushes a pawn they are doing much more than playing a chess game. They are taking part in a rehearsal for life."
John Healy / former prisoner and author of The Grass Arena.
At a time when prisons are in the news due to increasing violence, drug consumption and low morale, it has never been more important to focus on education and rehabilitation.
Chess makes a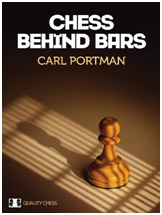 difference because it is a fantastic metaphor for life. We must think before making our move, and accept that our decisions have consequences. It also teaches us to learn from our mistakes and to develop a more disciplined approach to problem solving. Perhaps most importantly of all, it is a constructive use of time and helps to forge friendships. Chess makes us consider the other persons point of view.
About the author:
Carl is well known on the chess circuit and has considerable experience of organizing, coaching and playing chess, as well as working in the public sector and dealing with senior officials, including MPs. His goal is to see chess being offered to prisoners across England as one of their educational options and to foster the pursuit of chess in prisons. Carl is aware that the task is difficult, especially in the current climate of prison closures and budget reductions, but he is keen to see what can be achieved in this area. Carl's (source: English Chess Federation)
Learn how chess is making a positive difference in prisons today. To book Carl for a lecture, chess coaching session or to order a signed copy of his book direct, contact him at carl@caissaconsulting.co.uk.